1. Tottori Kuroge Wagyu (Japanese Black) Beef
Tottori Kuroge Wagyu Beef is our most prized product. We purchase whole carcasses graded between A4 and A5 (the highest grade) from the Houki Maeda Farm, who has won Tottori's best beef prize several times, and then distribute to visitors and high-class Japanese-style restaurants.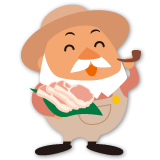 "The red meat has a rich taste, and the fat is plain. The great balance of red meat and fat provides evidence that the animal was healthy and under no stress. You can't find this kind of beef so easily", say the restaurants' owners. The flavor is produced by oleic acid (Olein 55) in the beef, which makes the meat softer and melt easier in the mouth.
2. Fresh vegetables grown in the highland plains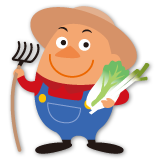 The soil around Mt. Daisen is called Kuroboku (Black Soil), which is said to contain abundant minerals good for agriculture. Fresh vegetables grown by local farmers on the highland plains are picked in the morning and delivered directly to Daisenbou. Having tasted the rich and sweet flavor of the vegetables, you will quickly see why the soil is also called "magical soil".
3. Souvenirs
Daisenbou provides various souvenirs, which includes various local foods, folk crafts and artifacts.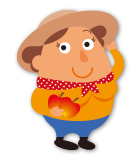 Popular souvenirs include Daisen G Beer, who's 'Weizen' or Wheat Beer won the World's Best Wheat Only Beer Award at the World Beer Awards (WBA) in 2012. Daisen G Beer is made using subterranean water from Mt. Daisen, which is semi-hard with a moderate amount of calcium and magnesium.
Access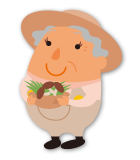 From Sakaiminato
Towards Okayama on Route 431 → Take the Yonago Expressway for Okayama → Get off at Mizoguchi Interchange Exit
Approximately 50 minutes from Sakaiminato
From Yonago Kitaro Airport
Towards Okayama on Route 431 → Take the Yonago Expressway for Okayama → Get off at the Mizoguchi Interchange Exit
Approximately 40 minutes from Yonago Kitaro Airport
From Yonago Station
Towards Okayama on Route 181 → Make a right at the Mizoguchi Interchange Entrance on Prefectural Highway 45 and go straight for 5 minutes
Approximately 30 minutes from Yonago Station
>>
Try the TOTTRIP Pathfinder Web Application! (English and Korean)
View Larger Map